2017 is very nearly here and Amazon is having an End of Year Sale to Celebrate.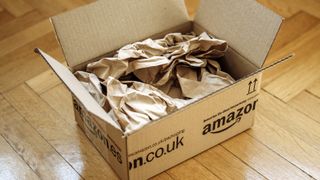 We've gathered together all the latest Amazon bargains including the Lightning Deals that are on right now, thanks to our clever Lightning Deals widget.
Amazon's End of Year Sale is now on until 23:59 GMT on Saturday, 31 December.
 Some deals are Lightning Deals, for which you can see, in real time, the units available and time remaining.
Some deals are Deals of the Day; these start at 00:01 am and end at 11:59 pm (subject to availability).
Click the link below to hop straight on over to Amazon:
Check out Amazon's End of Year Sale!
Get Amazon gift cards if you forgot a Christmas present
The best Amazon Lightning Deals on right now!
The etail giant will be running both Lightning Deals (that last four hours) and Best Deals that usually last until the stock ends – so they might last a couple of days, for example.
Lightning Deals run on products available at a discount, in limited quantities, for a short period of time.  Amazon Prime members have an exclusive 30-minute early access period to all Lightning Deals – and that includes members on the 30 day trial.