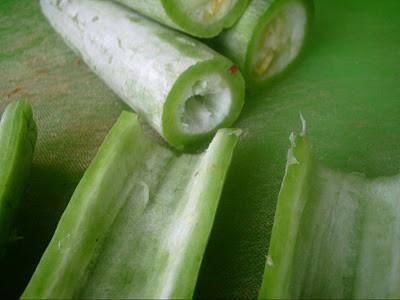 Snake gourd is abundant in essential nutrients, vitamins, and minerals. It is also jam-packed with vitamin A, B, C, as well as manganese, magnesium, calcium, iron, potassium, and iodine and can help you to enhance your overall well-being. Thus, we tell you why you should consume it.
It can help you to manage diabetes
Snake gourd can help lessen the effects of diabetes. It is a low-calorie food and can help you to keep your weight under check. So, try to eat it and you will surely like it.
It can help you to get rid of fever
Snake gourd, known as Trichosanthes cucumerina can reduce bilious fever. It is jam-packed with vitamins and minerals and can also help you to deal with malaria.
It can be beneficial for your heart
Snake gourd is loaded with essential minerals and can be a good solution for arterial disorders that is palpitation and other health ailments like pain and stress on your ticker. The extract from the snake gourd can help you to improve your blood circulation and keep heart problems at bay.
 It can help you to get rid of constipation
It is abundant in fibre and can help you to deal with constipation. Thus, you should include it in your diet right away.
 It can help you to detoxify your body
The fantastic veggie which is loaded with magnesium and so on can help you to flush out toxins from your body. It can help you to increase the creation of bodily fluids, which can reduce dryness and dehydration, and maintain the normal functioning of your kidneys and bladder.
 It can help you to boost your immunity
The super snake gourd has antibiotic properties and it can help you to enhance your overall health. So, you should speak to your expert about the quantity in which you should eat it. Avoid going overboard.
It can help you to deal with dandruff
Is dandruff spoiling your appearance and robbing your peace? Are you finding it difficult to step out of the house due to that dandruff? Now, you should not fret anymore, we have a fool-proof remedy for you. Opt for snake gourd. Yes, you have heard us here! Applying snake gourd juice which can boost your fluid production can be helpful for you. Moreover, it can also moisturize your scalp. Go for it today! You will surely get some benefit from it.